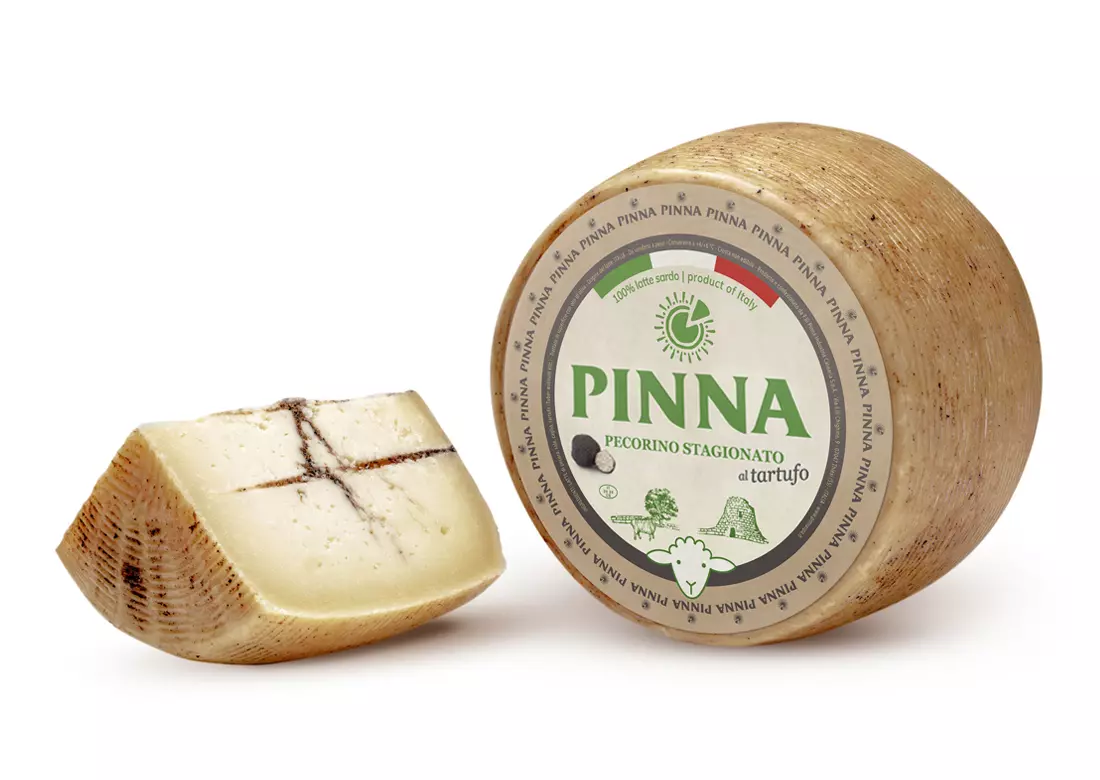 Aged Truffle Pecorino
Matured

|
Intense

|
Truffle-flavoured
A matured pecorino that combines the intense taste of aged pecorino with the precious and unmistakable one of truffle. It is a cheese in basket, embellished with attractive veins of truffle puree injected into the cheese that create a unique internal marbling effect.

It is made only from Sardinian sheep milk in wheels of about 4 kg with a striped rind, treated with olive oil, with a dark yellow colour. Unlike most truffle cheeses, here the truffle puree is infused only once the cheese has reached a satisfactory ripening period, giving the cheese a typical strong and aromatic flavour. The result is a superb cheese with a strong, pungent, persistent but fairly balanced taste, with an elegant finish that deserves to be paired with a good meditation wine.

The paste can be semi-hard depending on the curing time and crumbly. The colour is straw yellow, with the dark brown of the internal veins given by the truffle puree. The scent of truffle can already be felt when cut, the flavour is intense and decisive, almost spicy. It is mainly enjoyed in flakes or small pieces, according to taste. Grated, it gives a delicious aroma and a complex, rich and deep flavour to pasta and risotto.
Ingredients
Sheep milk,
truffle (Tuber aestivum Vitt.),
salt,
rennet
Store in the refrigerator
or in any case in a cool place (around 4-6° C)
NUTRITIONAL INFORMATION
Average values ​​for 100 g of product
of which saturated fatty acids
18,8 g
Question and Answers
How is pecorino with truffle produced?
Our Brigante with truffles is produced with whole sheep's milk that comes from Sardinian pastures. During the production phases of this cheese the pasta is interspersed with the brown of pieces of truffle.
What wines can be paired with Brigante with truffles?
Regno di Sardegna with Truffles with its enveloping flavor goes best with intense white wines, or robust red wines such as a good glass of Sauvignon Blanc or a Barbera d'Asti, Piedmont.
What recipes can I prepare with pecorino with truffle?
With our Regno di Sardegna with truffles you canprepare quick recipes for delicious aperitifs, vegetable soups by adding our grated cheese. This cheese is also a good ingredient for savory pies or a truffle lasagna.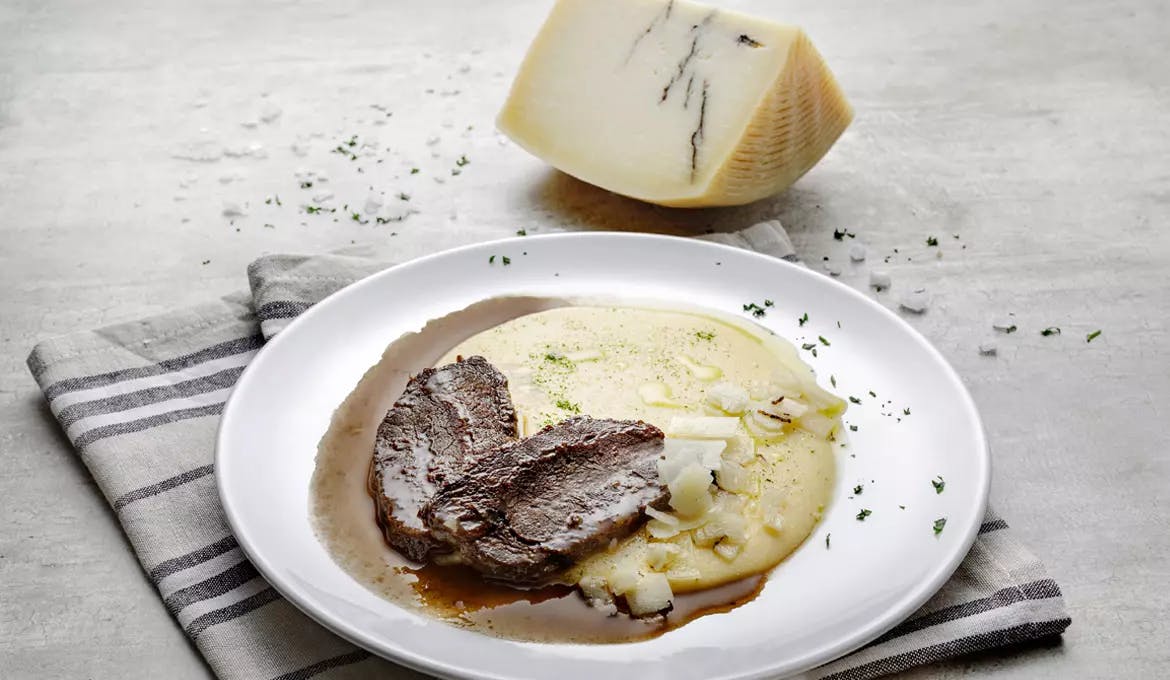 Discover the recipes with the Aged Truffles Pecorino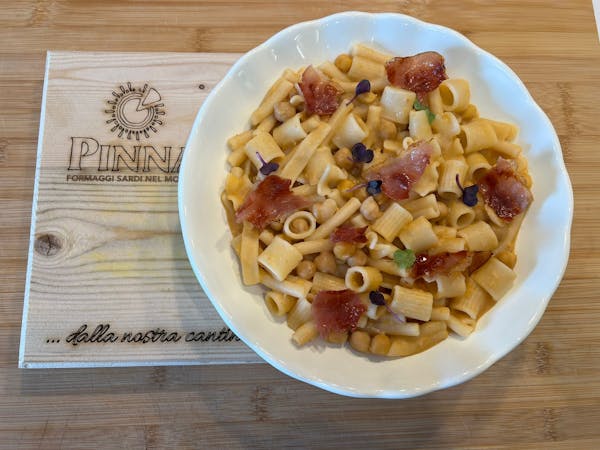 10 minutes
Go to the recipe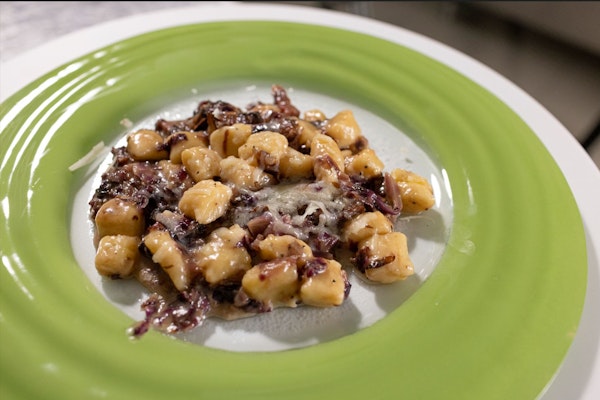 Potato gnocchi with Pecorino cheese with truffles, radicchio and speck.
50 minutes
Go to the recipe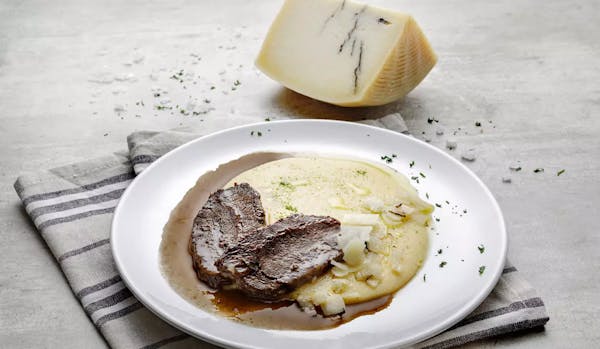 POLENTA WITH TRUFFLE PECORINO AND RED OX STEW
60 minutes
Go to the recipe