For the semifreddo
Egg white

30 g

Sugar

20 g

Water

20 ml

Inverted sugar

20 g

Gran Pecorino Riserva

110 g

Cream

100 ml

Food grade gelatine in sheets

4 g

Vanilla bean

1/2
For the peaches
Sliced ​​peach pulp

200 g

Grated lemon peel

1 g

Sugar

20 g

Louisa herb

2 leaves
Method
The semifreddo
1
Open the vanilla bean and infuse it in 50 ml of cream.
2
Put a small pot on the stove with water, sugar and inverted sugar. Meanwhile, whip the egg whites in a planetary mixer at moderate speed.
3
When the sugar syrup reaches a temperature of 117° C, increase the speed of the planetary mixer. As soon as it reaches the temperature of 121° C, pour it slowly over the egg whites.
4
Continue to whip the Italian meringue until it has cooled completely. In the meantime, when the meringue finishes whipping, remove the vanilla from the cream and heat it in a small pot.
5
When the temperature reaches 80° C, add the previously grated cheese, mixing with a whisk. Remove from the stove and continue stirring until you get a smooth and uniform fondue.
6
Soften the gelatine in cold water.
7
Transfer the Italian meringue into a bowl, then add, mixing from bottom to top, the Gran Pecorino Riserva cheese fondue.
8
Then add the gelatine well squeezed and melted in a bain-marie.
9
Finally, add the remaining semi-whipped cream, continuing to mix from the bottom up. Pour into the moulds and put in blast chiller or freezer, until completely freezing.
Peaches
1
Carefully peel the peaches, and cut them into slivers.
2
Caramelize them in a small pot with sugar, lemon and Louisa until golden and soft.
Compose the dish
1
Arrange the peach slivers on the plate.
2
Unmould the semifreddo and lay it down on the peaches, garnish as you like.
RECIPE BY: Luisa Bayre and her staff
Share this recipe
Discover the recipes with the Gran Pecorino Riserva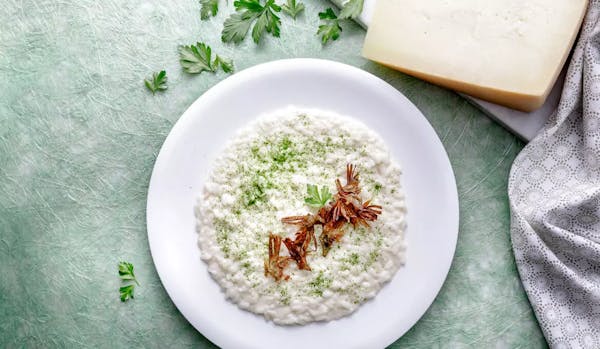 RISOTTO WITH ARTICHOKES AND GRAN PECORINO
60 minutes
Go to the recipe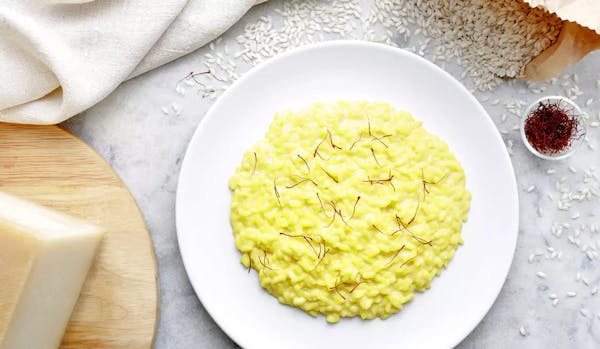 SAFFRON RISOTTO
30 minutes
Go to the recipe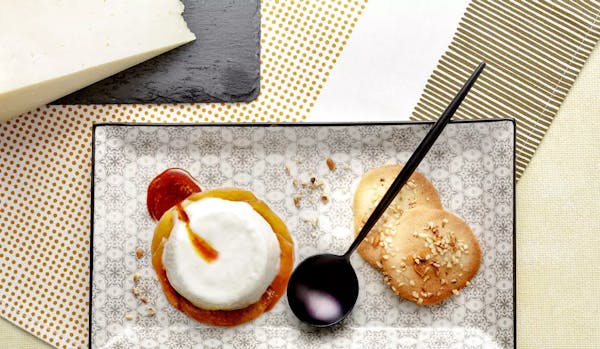 CARAMELIZED PEACHES AND SEMIFREDDO WITH GRAN PECORINO RISERVA
45 minutes
Go to the recipe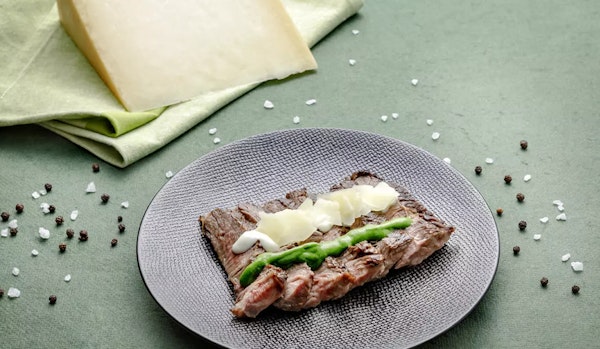 SLICED ANGUS STEAK WITH GRAN PECORINO
15 minutes
Go to the recipe