Medium-sized peppers

4

Capers

80 g

Pastore del Tirso

180 g

Cooked ham

80 g

Dill leaves

to taste

Basil

to taste

Oil

to taste

Salt

to taste
Method
1
Clean the peppers from the stalk and remove the seeds, then cut them into 4 parts and blanch them in lightly salted water to make them soft.
2
Heat a non-stick grill over high heat, as soon as the plate is hot, cook the peppers for a couple of minutes, adjust with table salt and as soon as they are cooked remove them from the plate.
3
In a bowl with plenty of oil, season the peppers and add two basil leaves broken by hand, let them rest for about 1 hour in the fridge.
4
Rinse the capers and divide them in half, then slice the Pastore del Tirso.
5
Grease a baking tray and form layers with the peppers, slices of Pastore del Tirso cheese and capers.
6
Repeat this step three times and complete the last layer with cooked ham and a dill leaf.
7
Put in the oven for 20 minutes, just enough time to melt the cheese.
8
Serve hot the Mille-feuille with peppers and Pastore del Tirso.
RECIPE BY: Luisa Bayre and her staff
Share this recipe
Discover the recipes with the Pastore del Tirso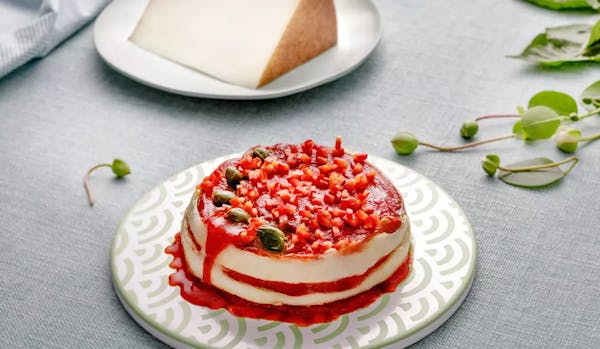 MILLE-FEUILLE WITH PEPPERS AND PASTORE DEL TIRSO
60 minutes
Go to the recipe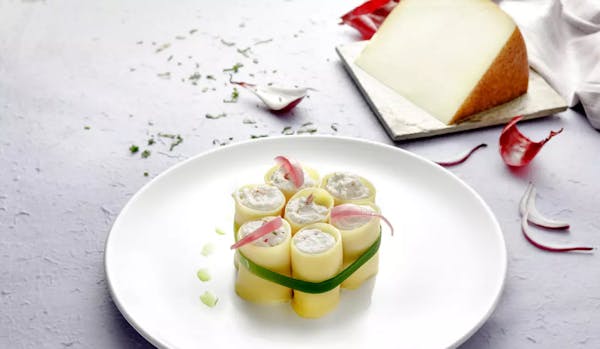 PACCHERI FILLED WITH SALTED COD AND PASTORE DEL TIRSO
60 minutes
Go to the recipe