PUREED LEEK SOUP WITH CAPRA SARDA CHEESE HEART
Shallot

½

Butter

100 g

Leeks

2

Medium-sized potato

1

Capra Sarda

200 g

Vegetable broth

750 ml
For the breading
Flour

to taste

Eggs

to taste

Oil for frying

to taste
Method
1
Cut the Capra Sarda cheese into cubes.
2
Keep half aside and prepare the rest for decoration. Flour the cheese pieces, put them in the beaten egg and fry them in boiling oil until they are golden.
3
Finely mince the shallot, cut the leeks into julienne and the potato into small cubes.
4
Brown the shallot with butter, then add the leeks and the potato. Add two glasses of vegetable broth, cover and cook for about 20/25 minutes.
5
Once cooked, add the Capra Sarda cheese cut into small pieces and blend everything.
6
Plate the pureed soup up and decorate each dish with the breaded and fried Capra Sarda cheese.
RECIPE BY: Luisa Bayre and her staff
Share this recipe
Discover the recipes with the Capra Sarda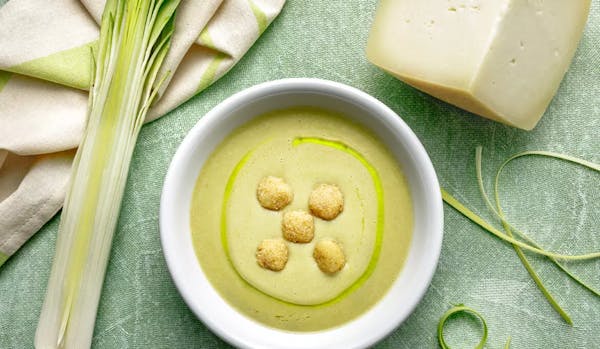 PUREED LEEK SOUP WITH CAPRA SARDA CHEESE HEART
30 minutes
Go to the recipe