CREATIVE
SARDINIAN FREGOLINA FLAN ON A BRIGANTE FONDUE WITH SAFFRON AND BLACK PEPPER
Fregola

200 g

Cream

159 cl

Eggs

2

Gran Pecorino Riserva

100 g

Courgette flowers

6 + s many as needed to cover the moulds

Fresh sausage

150 g

Onion

1

White wine

20 cl

Brigante with Saffron and Black Pepper

300 g

Vegetable broth

1 l

Milk

200 cl

Oil

to taste

Salt

to taste

Pepper

as needed

Dried tomato

2 pieces

Marjoram

to taste

Lemon

1

Spiny artichokes

3
Method
1
Clean the artichokes keeping the second and third crown of leaves and boil them in water with lemon juice. Then cut them into cubes. Mince the onion.
2
Brown the onion, dried tomato, chopped sausage and heart of artichokes in a pan with olive oil, then blend with wine.
3
Add the fregola and continue cooking with broth, season with salt and pepper and add 100 g of grated Gran Pecorino cheese and marjoram leaves.
4
Combine cream and eggs and mix everything together.
5
Line a mould with the courgette flowers, pour the fregola and bake in the oven at 180° for 12 minutes.
Fondue
1
Take the Brigante cheese with saffron and black pepper and cut it into pieces, then melt it over low heat with milk and put it in a soup bowl.
2
Plate up to serve at the table, start with an abundant spoonful of fondue, then place the flan above. Finish with fresh herb leaves and a drizzle of oil.
RECIPE BY: Luisa Bayre and her staff
Share this recipe
Discover the recipes with the Brigante with Saffron and Black Pepper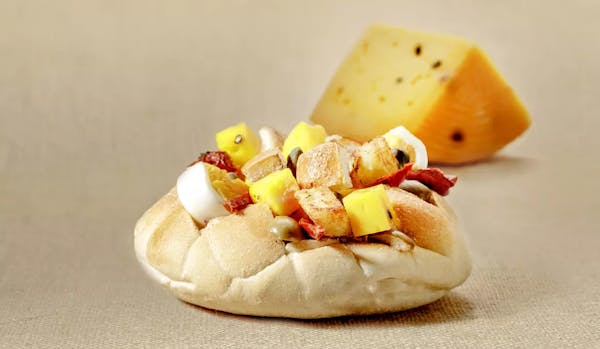 BRIGANTE'S TURTLE
45 minutes
Go to the recipe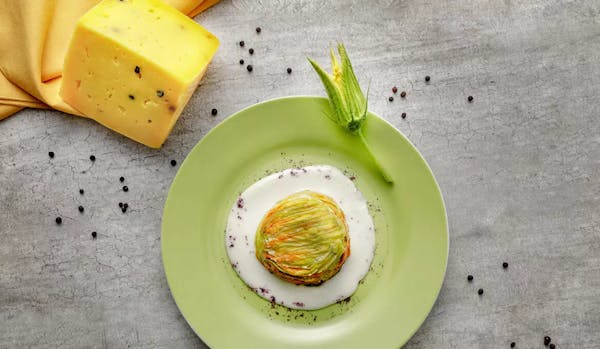 SARDINIAN FREGOLINA FLAN ON A BRIGANTE FONDUE WITH SAFFRON AND BLACK PEPPER
30 minutes
Go to the recipe