The protagonist of this recipe: Pecorino Romano PDO
Presentation
The shepherds carried in their saddlebags a few pieces of matured pecorino, dried pasta and a few peppercorns to warm up in the cold transhumance. Chunks of lard added heat and amalgamated flavour and few ingredients in the country pans. In those nights, starry as well as cold, the Cheese and Pepper is a resource of the shepherds' tradition, and requires no other ingredients than pasta, pecorino and pepper. A simple but rich and comforting recipe.
Watch the Video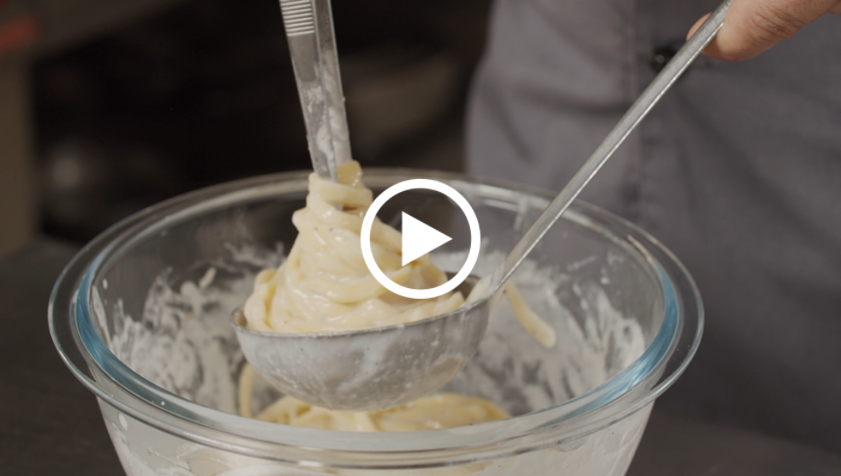 Spaghetti

280 g

Grated Pecorino Romano PDO

240 g

Oil or lard

to taste

Pepper

to taste
Method
1
Put grated Pecorino Romano and black pepper in a glass bowl. It would be ideal to crush whole peppercorns in the mortar, so that the aroma of the spice is released in its entirety.
2
Cook the spaghetti for a few minutes in plenty of lightly salted water until cooked al dente.
3
Drain the spaghetti, remember to keep the cooking water, and quickly pour them into the glass container containing the mixture of pecorino and pepper.
4
Quickly toss the pasta into the condiment and at the same time add a couple of tablespoons of cooking water to mix.
5
Plate the spaghetti with cheese and pepper up and serve immediately.
Questions And Answers
How to make cacio e pepe?
To prepare the Roman recipe of cacio e pepe you only need 3 ingredients: pasta, grated pecorino romano and a couple of ladles of cooking water. The secret is to obtain a cream that is neither too watery nor too thick.
What cheese to use for cacio e pepe?
The original recipe of cacio e pepe must be made exclusively with grated pecorino romano. The pecorino cream will be the key point of the Lazio recipe.
What kind of pasta to use for cacio e pepe?
For the recipe of Cacio e pepe the tonnarelli cacio e pepe are very popular. But, even here, as with carbonara, it is a matter of taste. You can prepare Cacio e pepe with both long and short pasta.
How many calories does a plate of caio and pepper have?
100 gr. of Cacio e Pepe pasta have about 167 Kcal.
Why is it called cacio e pepe if you use pecorino?
The term cacio refers to cheese in general. The history of this symbolic dish of the Roman world originates in the pastures. The dish, in fact, had to "intorzare", as they say in Roman, so that the customers needed the wine to swallow the pasta, so the more Cacio and pepper they ate, the more wine they drank.
RECIPE BY: Luisa Bayre and her staff
Share this recipe
Discover the recipes with the Grated Pecorino Romano PDO
Lasagna Artichokes and Pecorino
40 minutes
Go to the recipe
Mushroom Risotto
30 minutes
Go to the recipe
PASTA ALLA CARBONARA
30 minutes
Go to the recipe
Fettuccine all'Alfredo
20 minutes
Go to the recipe
2 minutes
Go to the recipe
SPAGHETTI WITH PESTO SAUCE
30 minutes
Go to the recipe
Pasta alla Zozzona
25 minutes
Go to the recipe
Pasta alla Genovese
20 minutes
Go to the recipe
Pasta allo scarpariello
15 minutes
Go to the recipe
Gnocchi Sorrentine style
30 minutes
Go to the recipe
20 minutes
Go to the recipe
30 minutes
Go to the recipe
SPAGHETTI ALL'AMATRICIANA
45 minutes
Go to the recipe
20 minutes
Go to the recipe
10 minutes
Go to the recipe
10 minutes
Go to the recipe
120 minutes
Go to the recipe
15 minutes
Go to the recipe
15 minutes
Go to the recipe
SPAGHETTI WITH CHEESE AND PEPPER
30 minutes
Go to the recipe
Spaghetti Frittata
30 minutes
Go to the recipe
20 minutes
Go to the recipe
10 minutes
Go to the recipe
Spaghetti alla Gricia
10 minutes
Go to the recipe
20 minutes
Go to the recipe
20 minutes
Go to the recipe
CHEESE AND PEPPER CROQUETTES WITH PECORINO ROMANO
45 minutes
Go to the recipe
SWEET AND SOUR SALTED COD RISSOLES WITH PECORINO ROMANO
45 minutes
Go to the recipe
MALLOREDDUS WITH SALTED COD, COURGETTES, PECORINO ROMANO AND MINT
30 minutes
Go to the recipe
CONCHIGLIONI FILLED WITH PECORINO ROMANO CHEESE
45 minutes
Go to the recipe
RICE WITH MUSSELS AND PECORINO ROMANO
45 minutes
Go to the recipe
FRUIT AND VEGETABLE SUMMER SALAD WITH PECORINO ROMANO
30 minutes
Go to the recipe
SHORTBREAD COOKIES WITH PECORINO ROMANO
45 minutes
Go to the recipe
TURBOT ESCALOPE WITH PECORINO
45 minutes
Go to the recipe
SPAGHETTI WITH PUMPKIN CREAM AND PECORINO ROMANO CUBES
45 minutes
Go to the recipe
PEARS IN VIN SANTO WITH PECORINO ROMANO CREAM AND VANILLA ICE
60 minutes
Go to the recipe