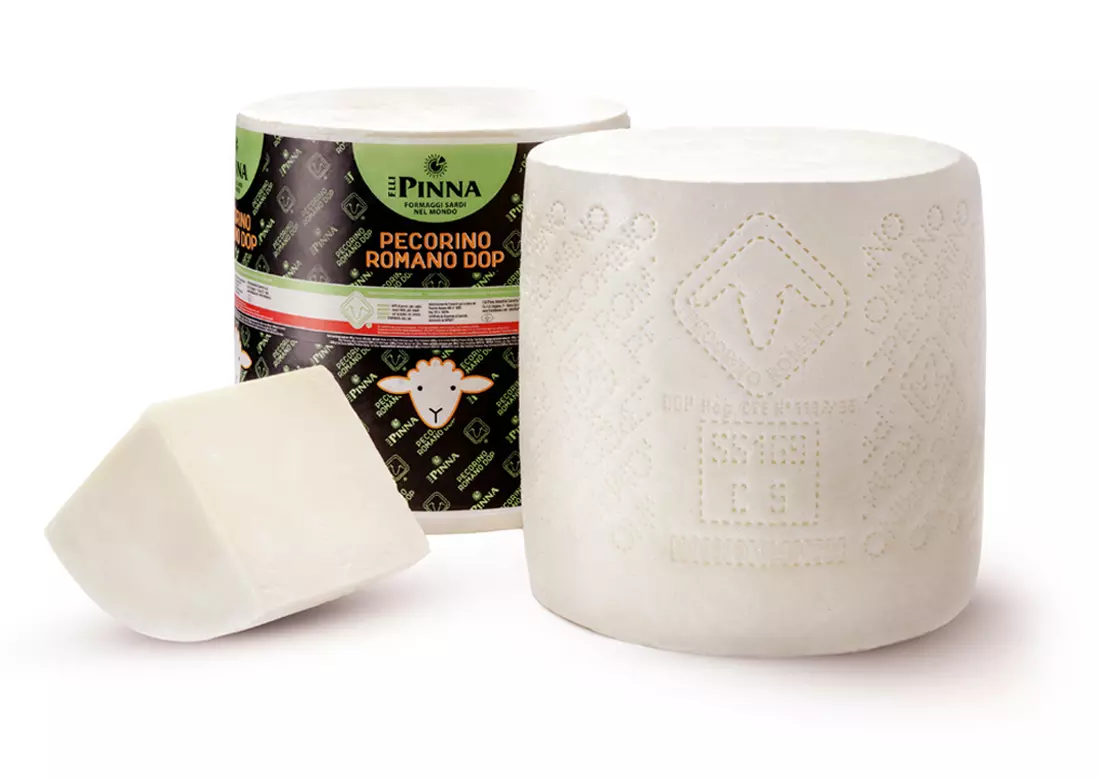 The protagonist of this recipe: Pecorino Romano PDO
Presentation
This recipe is the expression of the great Italian creativity in cooking: a few ingredients of the American army rations for a young cook who found himself in the demanding task of making a lunch for the allied troops, made with, of course, spaghetti, but no tomatoes, only American eggs & bacon, a very good cream of milk and some grated cheese; to finish a pinch of black pepper and the recipe is on everyone's lips all over the world. With time, bacon is replaced with the cheek lard and after several versions the cream is completely eliminated, but a few egg whites are added to improve the creaminess.
Spaghetti

280 g

Cheek lard

200 g

Whole egg

1

Yolks

3

Aged Pecorino Sardo Medoro PDO

120 g

Pepper

to taste
Method
1
Boil plenty of salted water and, in the meantime, start preparing the condiment for the carbonara pasta.
2
Cube the cheek lard and brown it in a pan, as soon as it takes colour, remove the fat, but remember to set aside a small quantity of it, you will need it later.
3
In a bowl, beat two whole eggs and two yolks, add the small quantity of fat from the cheek lard that you had set aside, it will help you to give softness to the condiment, and mix well.
4
To the mixture you get, add grated Medoro Pecorino and plenty of freshly ground pepper, mix well.
5
Drain the spaghetti al dente, put them in the pan containing the cheek lard, add the rest of the mixture and mix vigorously with the heat off.
6
Plate up and serve the carbonara pasta with cheek lard and pecorino cheese accompanied by a good glass of red wine from our lands, to consolidate friendships and find new alliances.
RECIPE BY: Luisa Bayre and her staff
Share this recipe
Discover the recipes with the Pecorino Romano PDO
20 minutes
Go to the recipe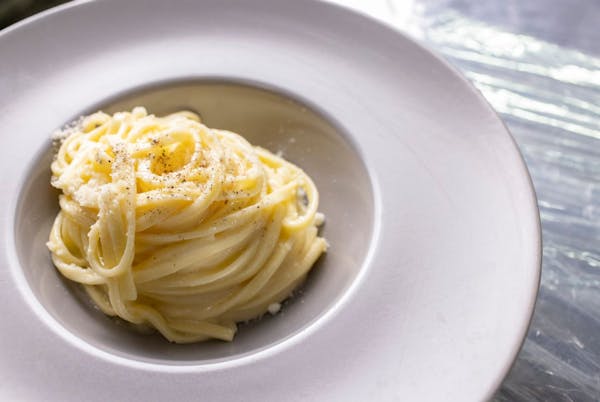 Fettuccine all'Alfredo
20 minutes
Go to the recipe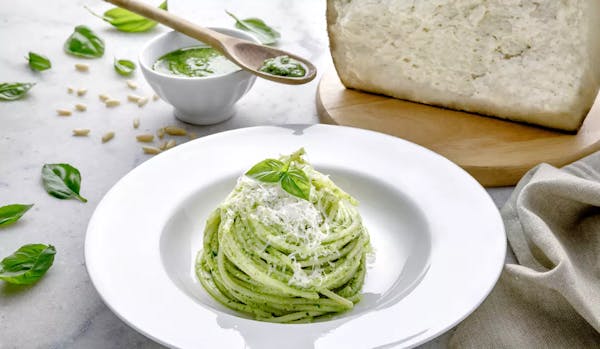 SPAGHETTI WITH PESTO SAUCE
30 minutes
Go to the recipe
SPAGHETTI ALL'AMATRICIANA
45 minutes
Go to the recipe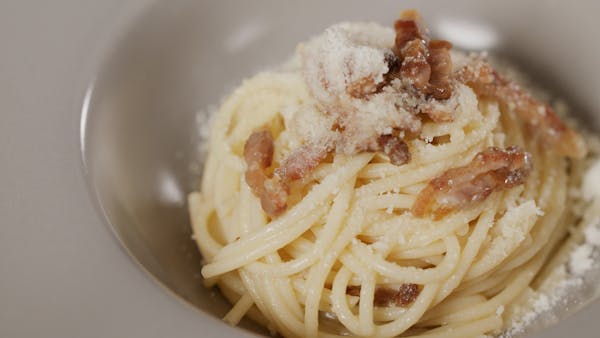 Spaghetti alla Gricia
10 minutes
Go to the recipe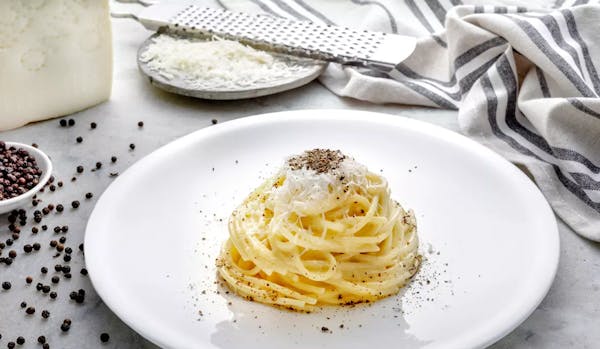 SPAGHETTI WITH CHEESE AND PEPPER
30 minutes
Go to the recipe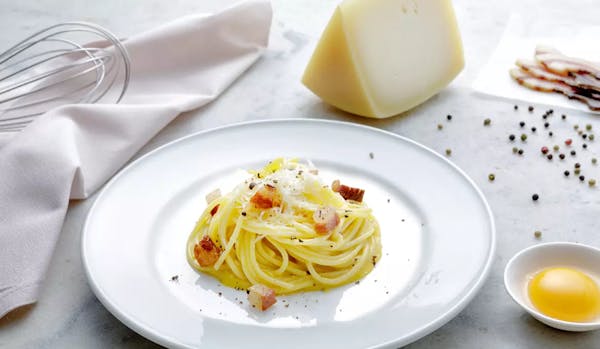 PASTA ALLA CARBONARA
30 minutes
Go to the recipe
Mushroom Risotto
30 minutes
Go to the recipe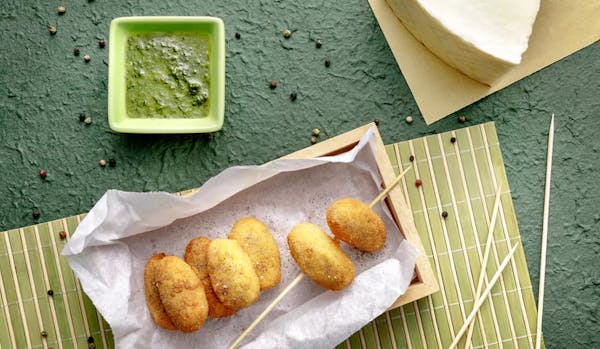 CHEESE AND PEPPER CROQUETTES WITH PECORINO ROMANO
45 minutes
Go to the recipe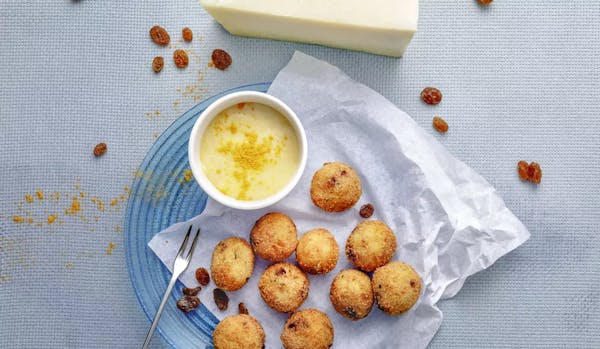 SWEET AND SOUR SALTED COD RISSOLES WITH PECORINO ROMANO
45 minutes
Go to the recipe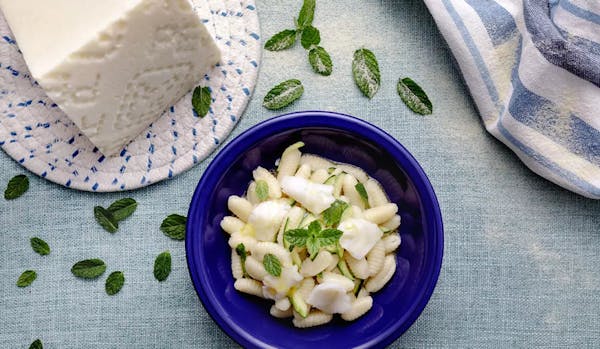 MALLOREDDUS WITH SALTED COD, COURGETTES, PECORINO ROMANO AND MINT
30 minutes
Go to the recipe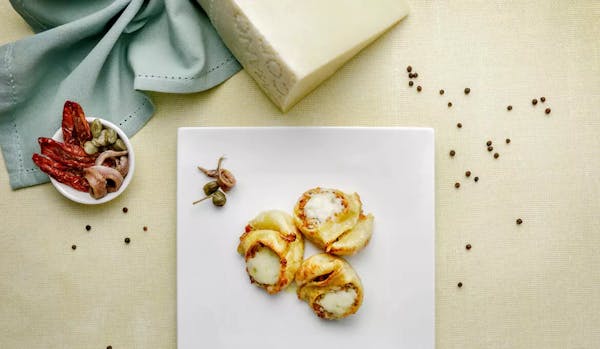 CONCHIGLIONI FILLED WITH PECORINO ROMANO CHEESE
45 minutes
Go to the recipe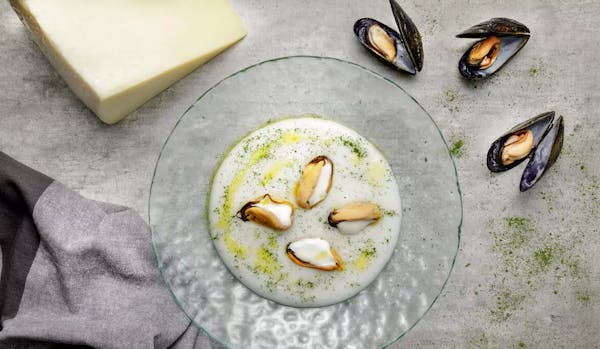 RICE WITH MUSSELS AND PECORINO ROMANO
45 minutes
Go to the recipe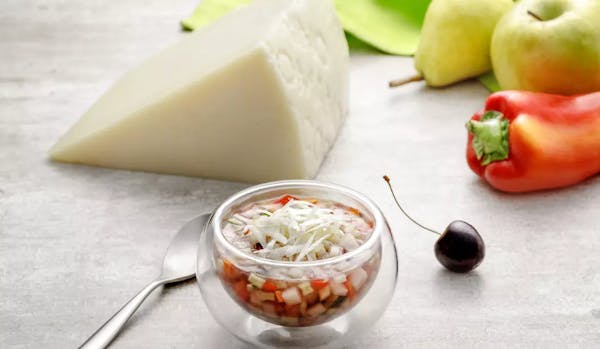 FRUIT AND VEGETABLE SUMMER SALAD WITH PECORINO ROMANO
30 minutes
Go to the recipe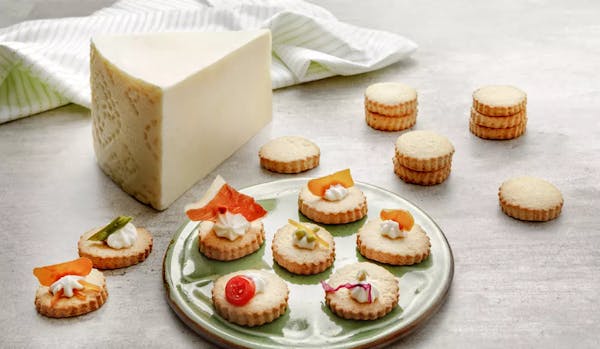 SHORTBREAD COOKIES WITH PECORINO ROMANO
45 minutes
Go to the recipe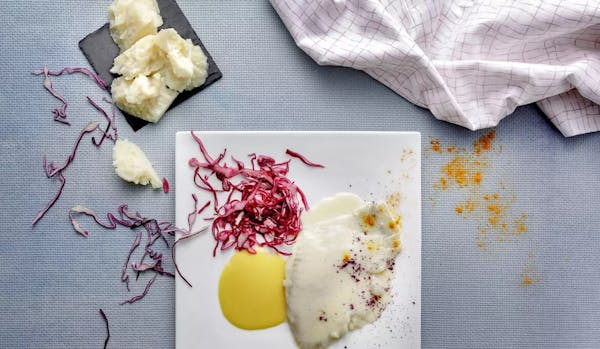 TURBOT ESCALOPE WITH PECORINO
45 minutes
Go to the recipe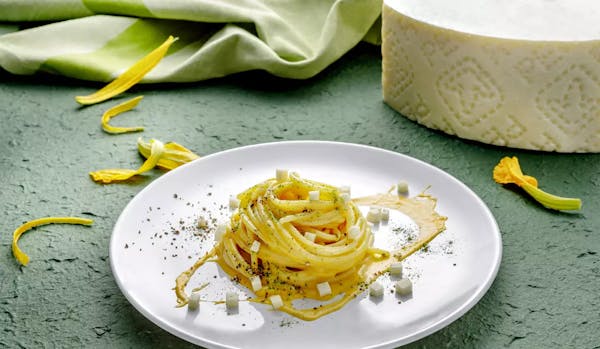 SPAGHETTI WITH PUMPKIN CREAM AND PECORINO ROMANO CUBES
45 minutes
Go to the recipe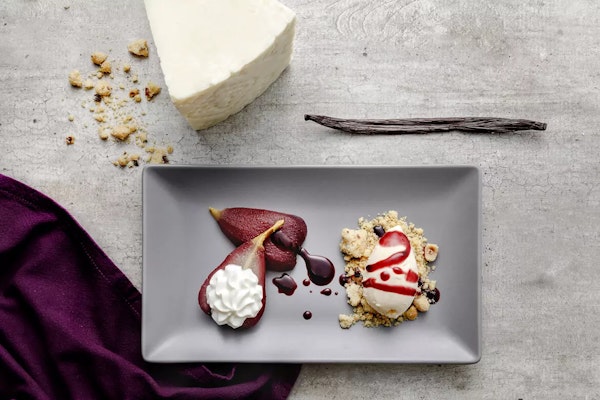 PEARS IN VIN SANTO WITH PECORINO ROMANO CREAM AND VANILLA ICE
60 minutes
Go to the recipe