CREATIVE
POTATO DUMPLINGS AND SALTED COD WITH CHEEK LARD, PORCINO MUSHROOMS AND SANTA TERESA
For the gnocchi
Salted cod

300 g

Potatoes

150 g

00 flour

30 g

Salted cod cooking water

1 ladle

Egg yolk

1
Porcino mushrooms and cheek lard sauce
Thinly sliced ​​cheek lard

80 g

Thinly sliced ​​onion

50 g

Garlic clove

1

Fresh mushrooms

600 g

Datterini tomatoes (optional)

400 g

Mild Pecorino Sardo PDO Santa Teresa

60 g

Salt

to taste

Pepper

to taste

Parsley

to taste
Method
The gnocchi
1
Peel, wash and cut the potatoes into thin rings.
2
Cook the salted cod in a hot pan with a drizzle of oil, a finger of water and the lid. When it is cooked, you will have to lift it with a skimmer and let it cool.
3
In the cooking liquid of the salted cod, add the potatoes and let them cook, if it is necessary add water.
4
In the meantime, check that there are no thorns in the salted cod, then put it in the mixer and blend the mixture lightly.
5
When the potatoes are cooked, lift them with the skimmer, mash them and let them cool.
6
In a large bowl, put the blended salted cod and the mashed potatoes, combine the yolk and flour.
7
Knead and finally adjust the consistency by adding flour if necessary.
8
Once you obtain a uniform dough, knead it on a floured surface, shape small cylinders and cut them into small pieces of 1 cm per side.
9
Hollow them out with a floured finger and arrange them covered on a surface to dry.
10
Then cook the gnocchi in plenty of salted water.
The porcino mushrooms and cheek lard sauce
1
Clean the mushrooms, slice them and sauté them in a pan with a drizzle of oil and a clove of garlic.
2
In another pan, pour 80 g of extra virgin olive oil, onion and cheek lard.
3
As soon as they take on colour, if you want, add datterini tomatoes and then mushrooms cooked in olive oil, parsley and garlic, adjust with salt and pepper. Cover and cook for 4-5 minutes.
4
Once the small tomatoes are wilted, uncover and reduce the sauce.
5
Drain the gnocchi and pour them into the pan with the sauce, whisk with Santa Teresa Pecorino Sardo and add parsley
6
Plate up garnishing with a sprinkle of Santa Teresa and a peel of fried salted cod, serve hot.
RECIPE BY: Luisa Bayre and her staff
Share this recipe
Discover the recipes with the Santa Teresa sweet Pecorino Sardo PDO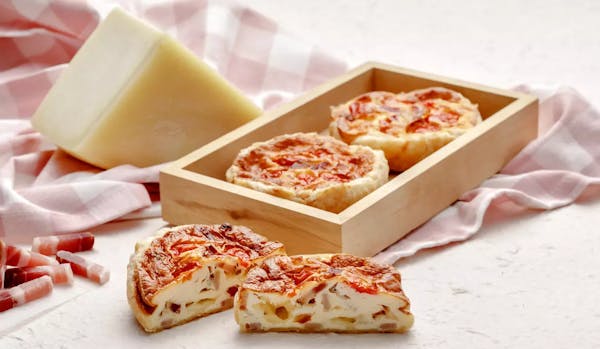 PUFF PASTRY TARTLET WITH BACON, TOMATO AND SANTA TERESA
45 minutes
Go to the recipe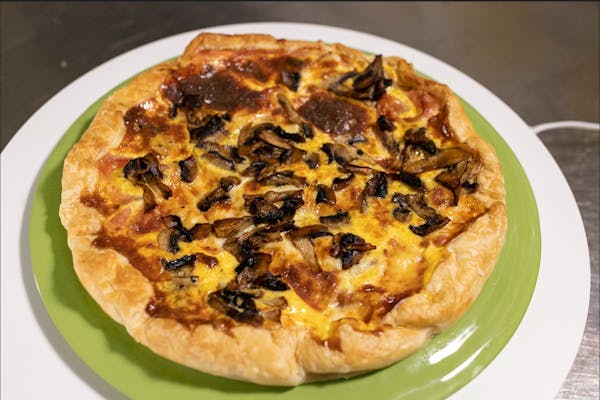 Savory pie with ham, mushrooms and Pecorino Sardo
60 minutes
Go to the recipe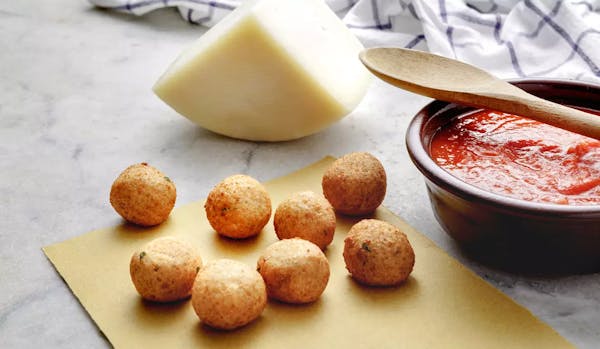 SANTA TERESA AND EGGS BOMBETTE
45 minutes
Go to the recipe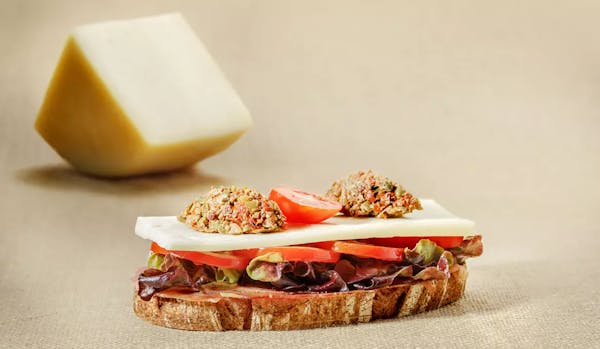 Santa Teresa
15 minutes
Go to the recipe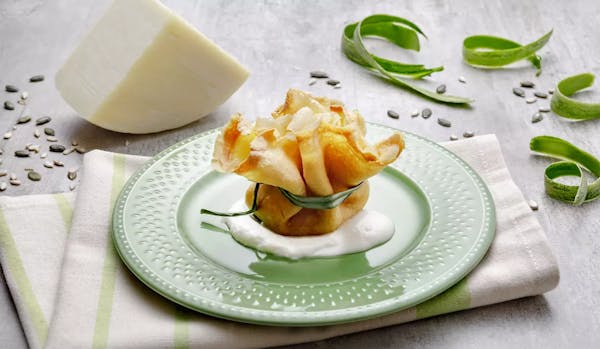 FAGOTTINO WITH COURGETTES AND SANTA TERESA
30 minutes
Go to the recipe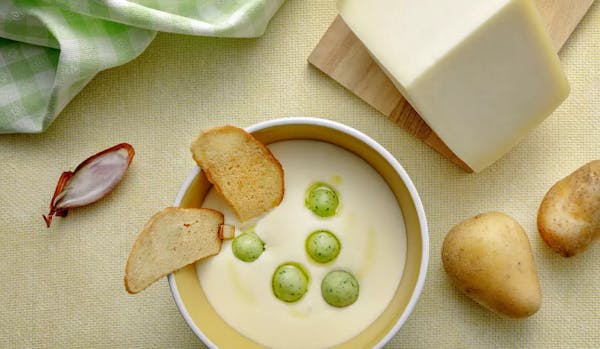 POTATO CREAM WITH SANTA TERESA
45 minutes
Go to the recipe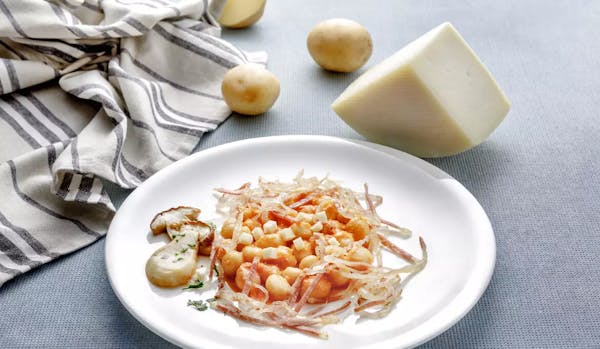 POTATO DUMPLINGS AND SALTED COD WITH CHEEK LARD, PORCINO MUSHROOMS AND SANTA TERESA
60 minutes
Go to the recipe