Spaghetti

280 g

Egg yolks

4

Courgettes

2

Carrots

2

Brigante with Red Pepper

160 g

Oil

150 g

Black pepper

to taste

Salt

to taste
Method
1
Put a pot with plenty of salted water on the stove.
2
With a mandolin, cut the courgettes and carrots lengthwise, then leave them to marinate for 5 minutes with salt and sugar.
3
After 5 minutes, rinse them well to remove the salt in excess.
4
On one side put the 4 egg yolks, Brigante with Chilli pepper and part of the oil.
5
Meanwhile, cook the pasta and, once the desired cooking is reached, drain it in a pan.
6
Whisk the drained spaghetti in the pan together with egg yolks, Brigante and vegetables.
7
Plate the vegetarian carbonara up and serve immediately.
8
Alternatively, you can make vegetarian carbonara without courgettes, or if you prefer you can opt for vegetarian carbonara with asparagus.
RECIPE BY: Luisa Bayre and her staff
Share this recipe
Discover the recipes with the Brigante with Chilli Pepper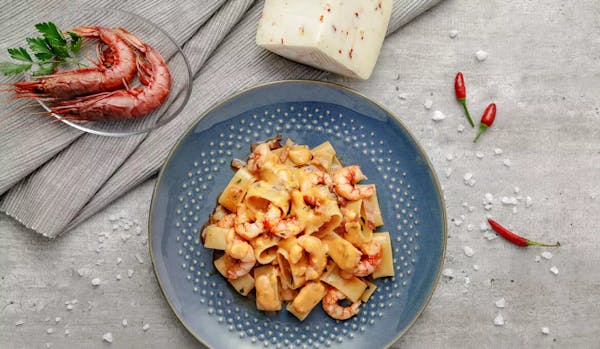 CALAMARATA WITH PRAWNS, BACON AND BRIGANTE WITH RED PEPPER
45 minutes
Go to the recipe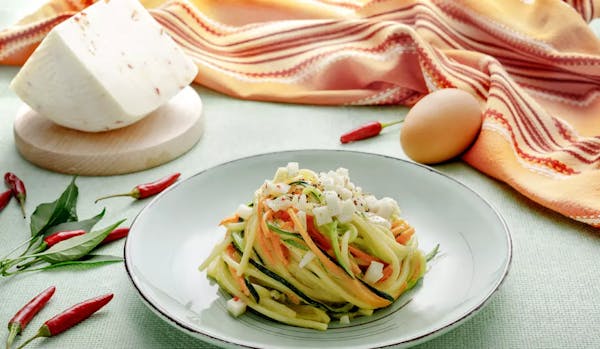 VEGETARIAN CARBONARA
30 minutes
Go to the recipe