For the babàs
Type 0 flour

500 g

Sugar

40 g

Milk

250 ml

Yolks

3

Butter

80 g

Brewer's yeast

15 g

Salt

13 g
For the cream
Milk

250 ml

Fresh cream

250 ml

Eggs

50 g

Yolks

20 g

Flour

40 g

Salt

2 g

Regno di Sardegna

75 g

Slivered ​​almonds

to taste
Method
The babàs
1
Mix the sugar with flour and start kneading.
2
Melt the yeast in a small amount of milk at room temperature, add it to the flour with sugar, add the rest of the milk, then add the eggs, too, one at a time.
3
Add the softened butter and continue to work the ingredients until you get a smooth and uniform dough, close with the salt. Let rest for about 40 minutes.
4
Divide the dough into portions of about 50 g and fill the buttered and floured babà moulds about 1/3 full. Sprinkle with parmesan cheese and let rise until the doughs volume has doubled (about a couple of hours).
5
Bake at 170° C for about 20 minutes. Remove from the oven and bring to room temperature, then gently unmould the babàs, let them cool completely on a grill covered with a clean rag.
The cream
1
In a saucepan, mix the eggs with salt, use a wooden spoon. Combine the flour, amalgamate and add warmed milk and cream.
2
Put on the stove and boil for two minutes, stirring constantly. Remove from the stove, add the Regno di Sardegna cheese and continue mixing. Cover with cling film and let cool completely.
3
Cut the babàs in half and fill them with a pastry bag, complete with the lightly toasted slivered ​​almonds on the bottom of a non-stick pan and with freshly ground pepper.
4
The salted babàs with almond cream and parmesan are ready to be served.
RECIPE BY: Luisa Bayre and her staff
Share this recipe
Discover the recipes with the Regno di Sardegna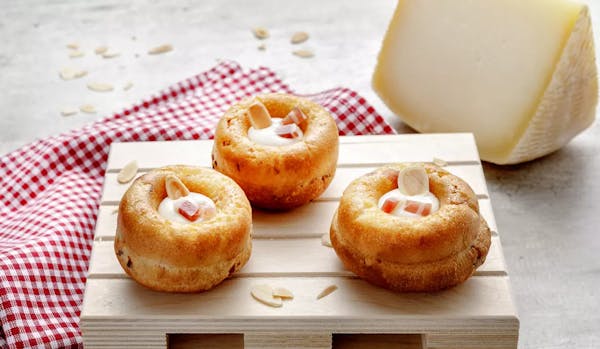 SALTED BABÀS WITH REGNO DI SARDEGNA AND ALMONDS
45 minutes
Go to the recipe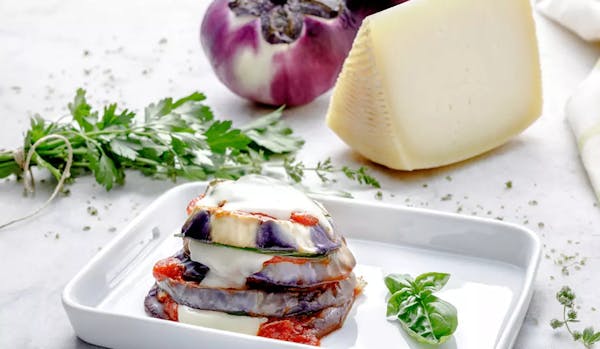 AUBERGINE PARMIGIANA
60 minutes
Go to the recipe