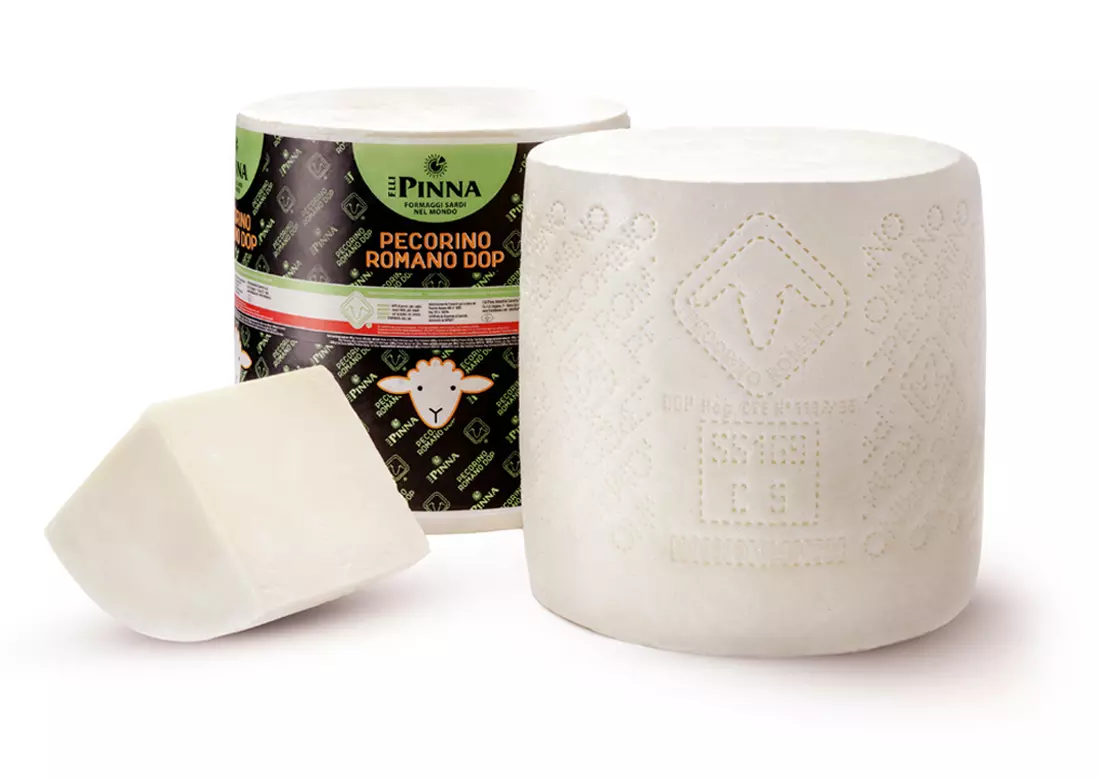 The protagonist of this recipe: Pecorino Romano PDO
Presentation
If you can't choose between the recipe for Carbonara, [Amatriciana](https://www.pinnaformaggi.it/en/recipes/spaghetti-all-amatriciana/, Cacio e Pepe or Gricia, here is the solution for you: pasta alla Zozzona. The recently discovered new recipe is nothing more than the set of all the recipes of the Roman and Lazio tradition. The ingredients are none other than Pecorino Romano, bacon, egg yolks, cherry tomatoes and black pepper. A truly enjoyable combo that takes the name of "* dirty " in its meaning of "richness of taste". A dish certainly not light, but which for this very reason will be loved by all. What are you waiting for? Discover our creation with abundant *Pecorino Romano Pinna**.
Watch the Video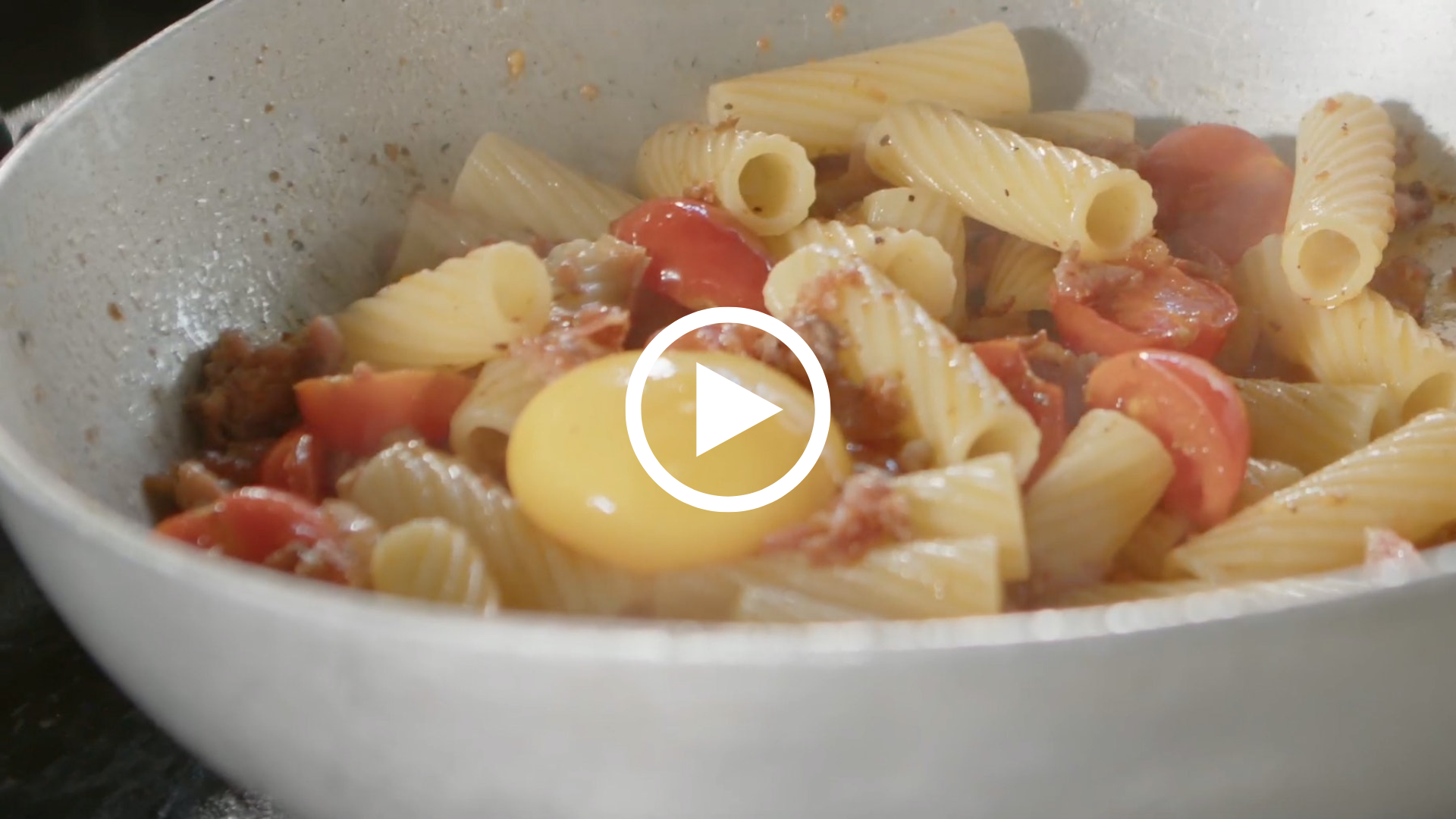 Pecorino Romano PDO

300 gr.

Rigatoni

400 gr.

Fresh sausage

200 gr.

Jowls

100 gr.

Cherry tomatoes

200 gr.

Yolks

4

Oil

q.b.

Salt

q.b.
Method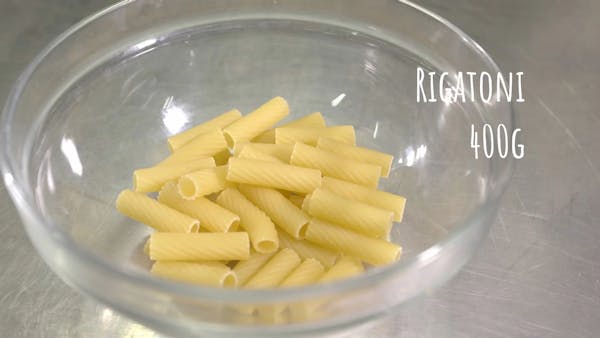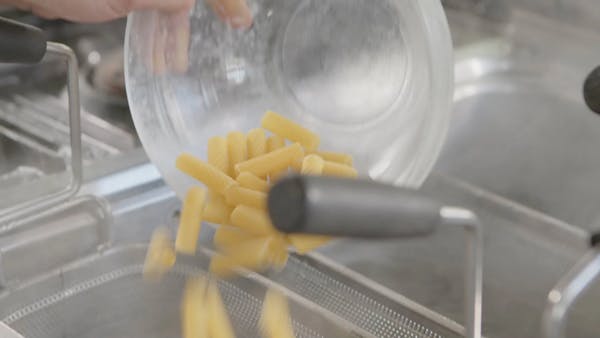 1
Bring a pot with plenty of water and a little salt to the boil. Then pour the rigatoni and cook al dente.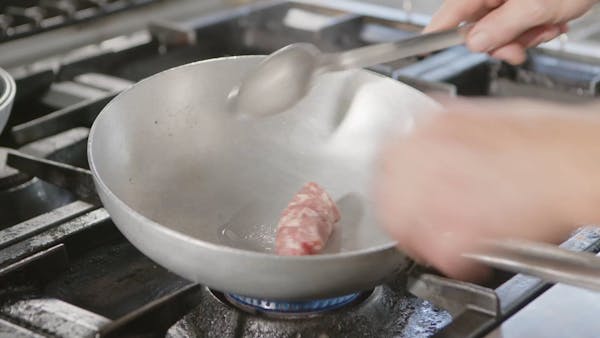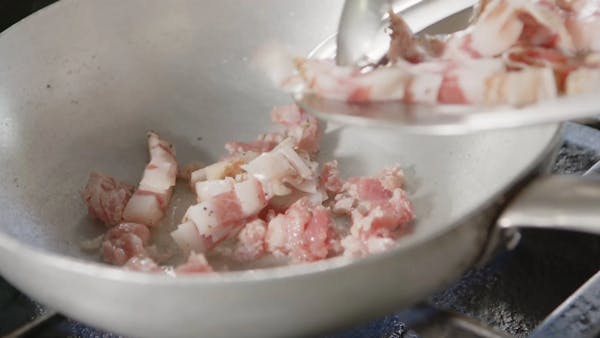 2
Pour the oil into a pan and then add the fresh sausage and the bacon previously cut into slices. Cook over high heat until the guanciale is crispy.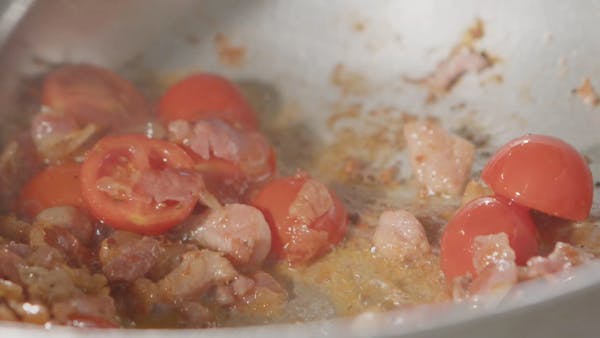 3
Now add the halved cherry tomatoes and cook for at least 10 minutes.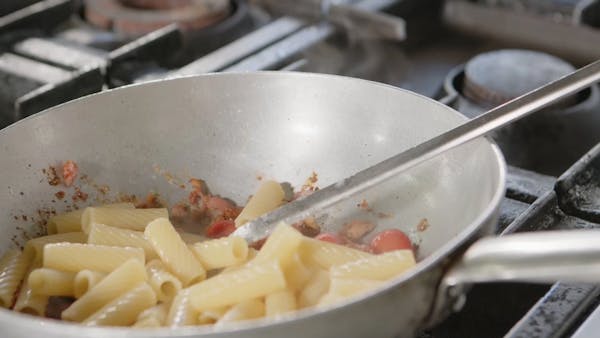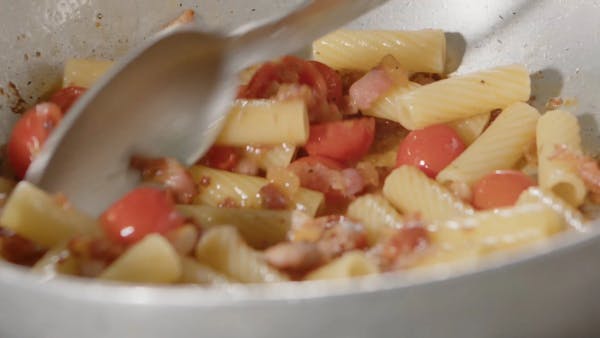 4
Once the rigatoni are cooked, pour them into the pan with the sauce and mix everything well.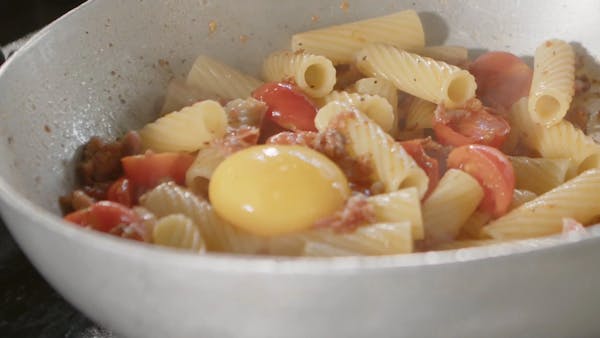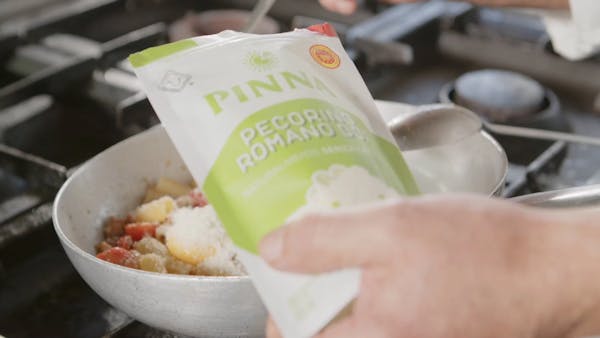 5
Now with the heat off, add the egg yolk and plenty of Pecorino Romano to the pan. *If you prefer, you can also cream the yolk and pecorino cream in a bowl and then pour it into the pan. We have done everything in the pan and we assure you that the result is really creamy.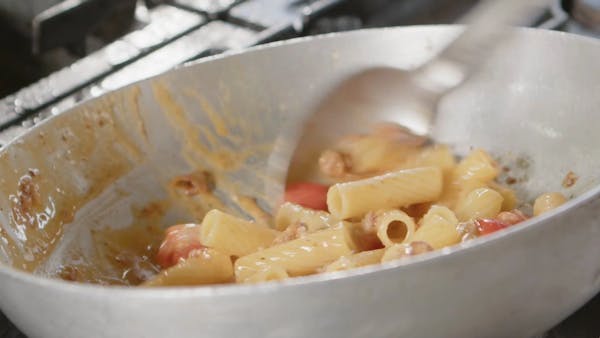 6
Continue to mix and stir in, adding the pecorino until you reach the ideal consistency.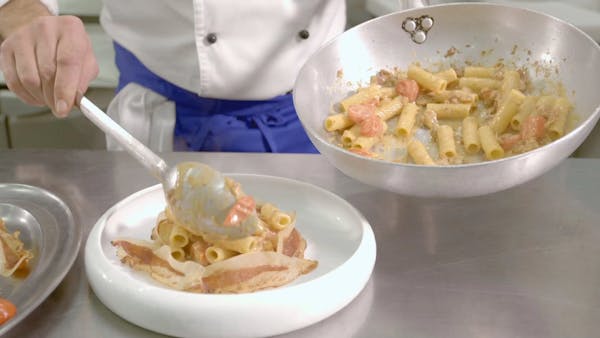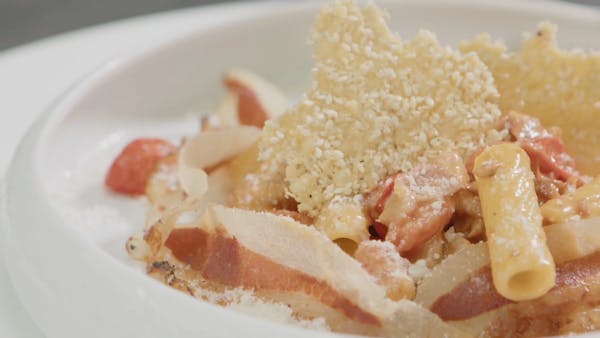 7
Serve as desired. We served rigatoni alla zozzona with slices of crispy bacon and pecorino romano wafers. You just have to try it!
Ricetta di : Pinna Formaggi
Share this recipe
2 minutes
Go to the recipe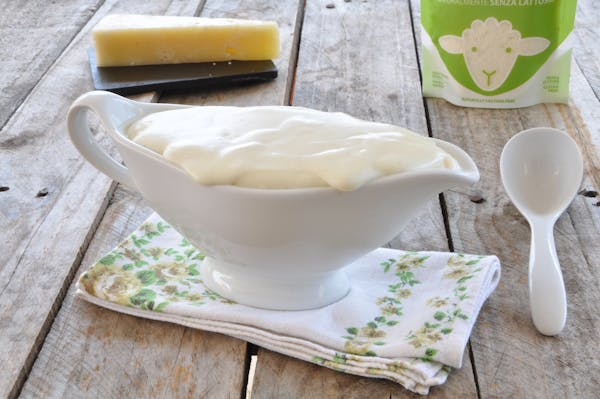 15 minutes
Go to the recipe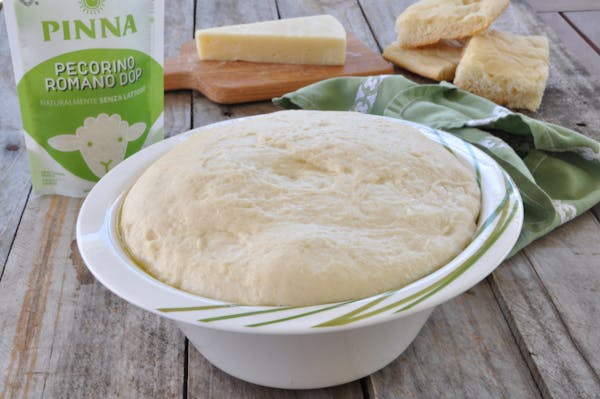 120 minutes
Go to the recipe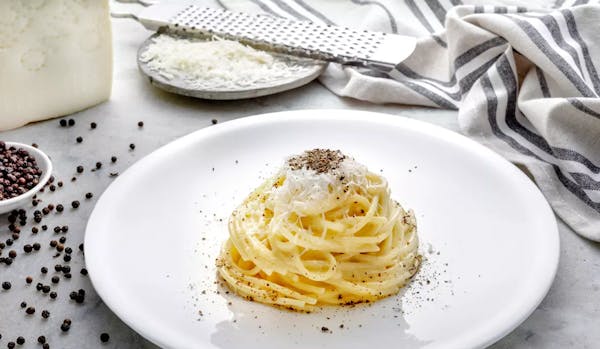 SPAGHETTI WITH CHEESE AND PEPPER
30 minutes
Go to the recipe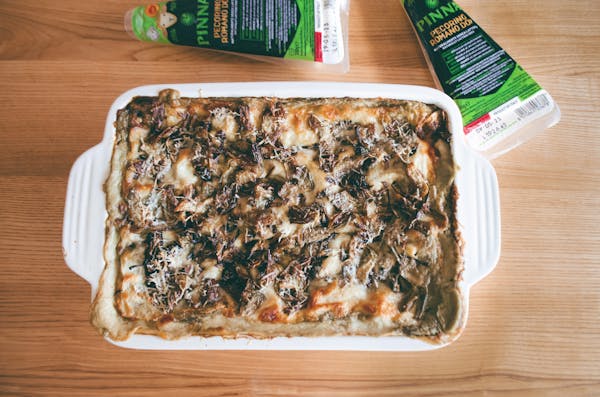 Lasagna Artichokes and Pecorino
40 minutes
Go to the recipe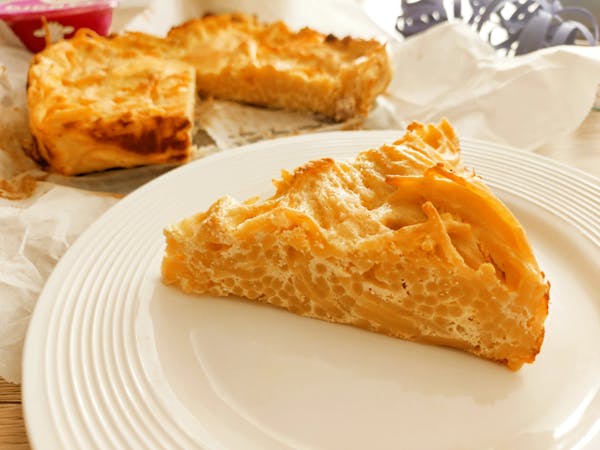 Spaghetti Frittata
30 minutes
Go to the recipe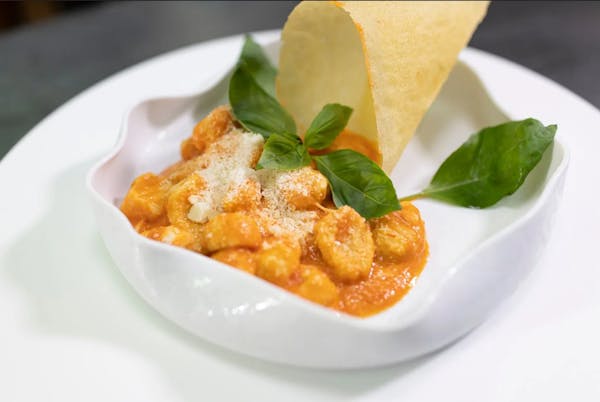 Gnocchi Sorrentine style
30 minutes
Go to the recipe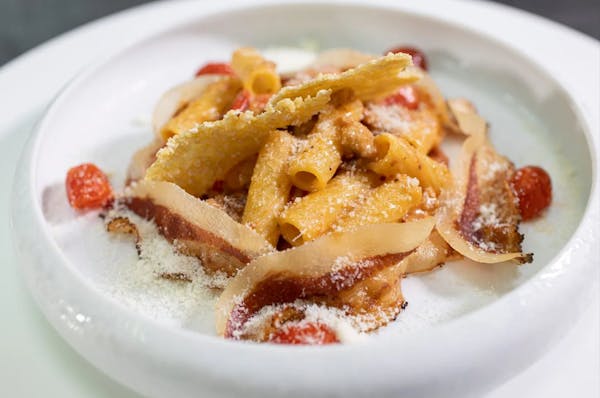 Pasta alla Zozzona
25 minutes
Go to the recipe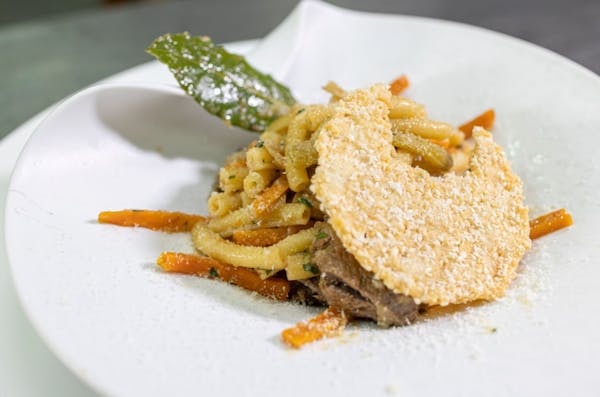 Pasta alla Genovese
20 minutes
Go to the recipe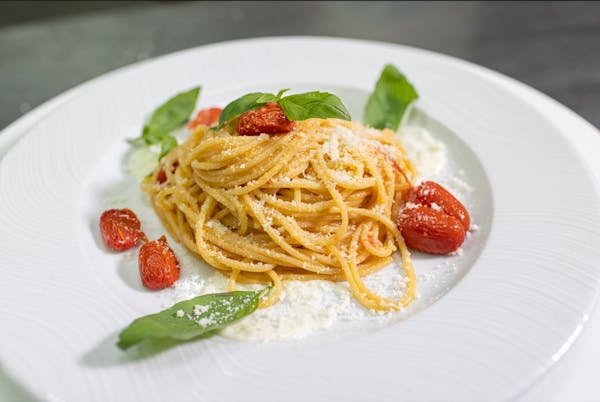 Pasta allo scarpariello
15 minutes
Go to the recipe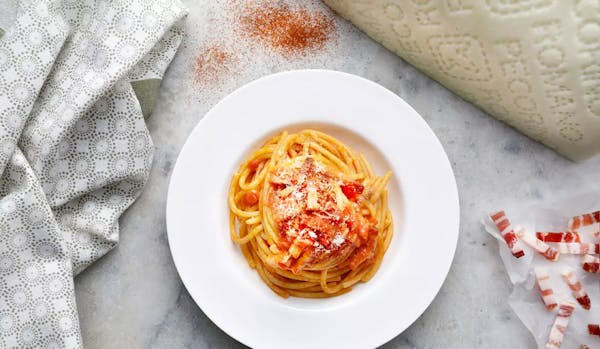 SPAGHETTI ALL'AMATRICIANA
45 minutes
Go to the recipe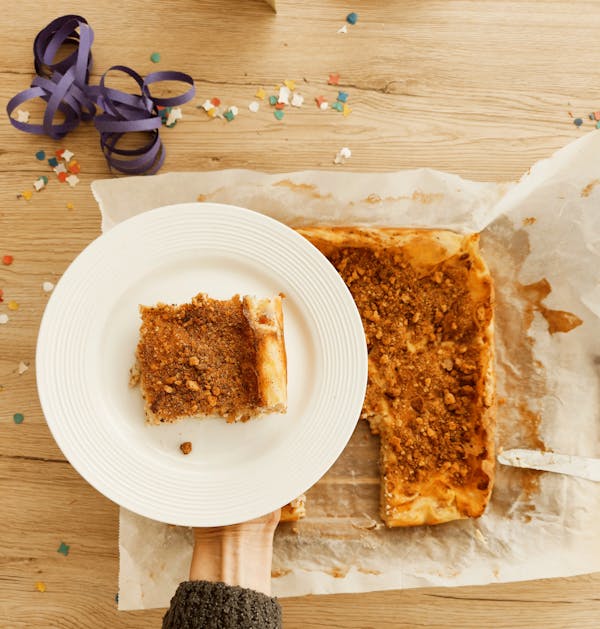 20 minutes
Go to the recipe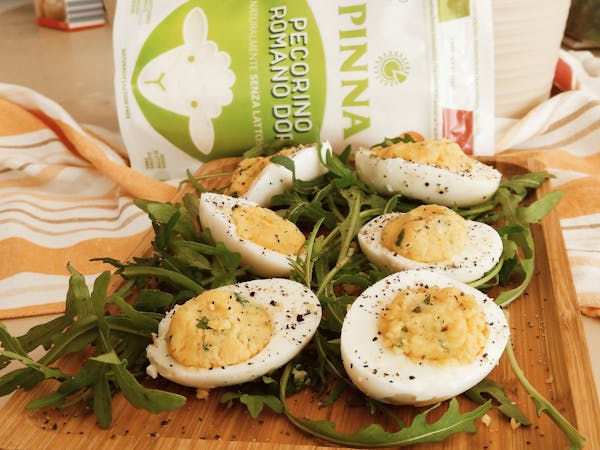 10 minutes
Go to the recipe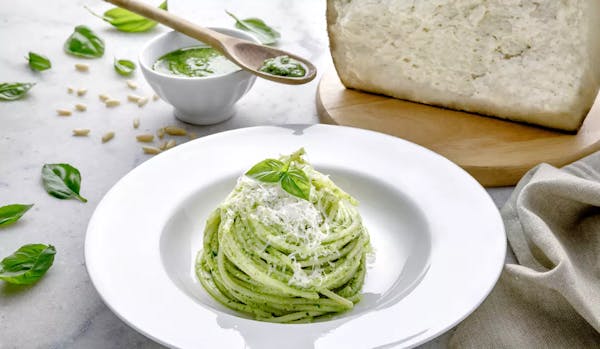 SPAGHETTI WITH PESTO SAUCE
30 minutes
Go to the recipe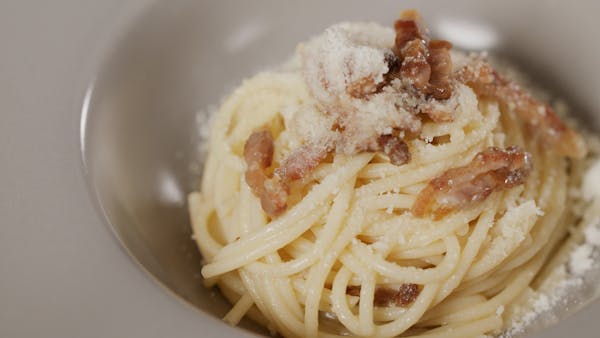 Spaghetti alla Gricia
10 minutes
Go to the recipe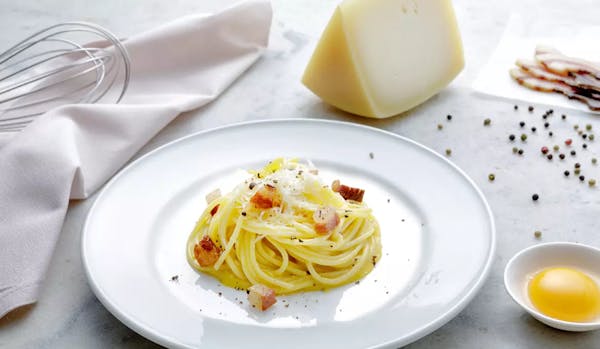 PASTA ALLA CARBONARA
30 minutes
Go to the recipe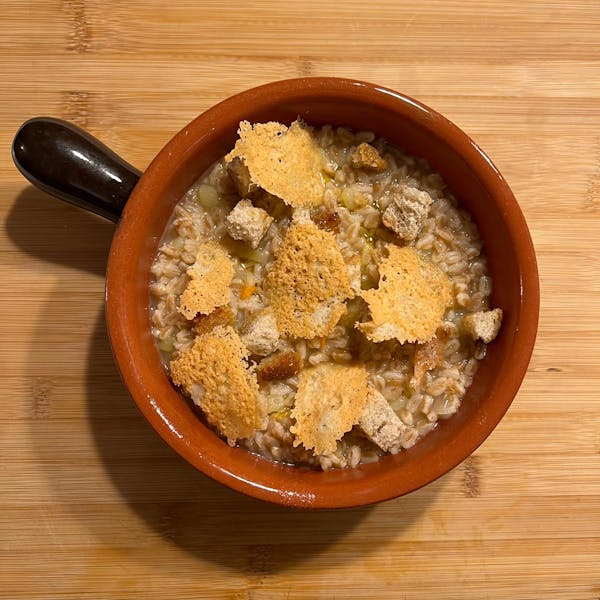 20 minutes
Go to the recipe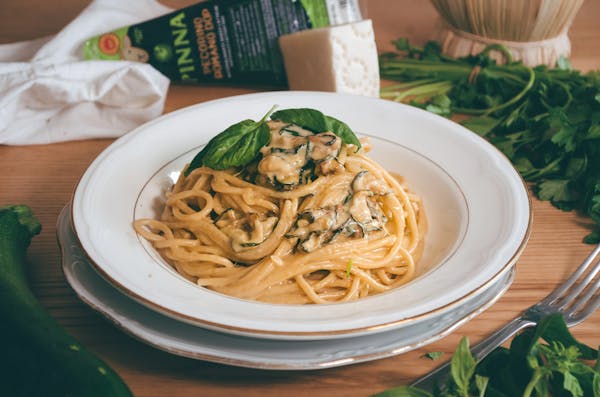 20 minutes
Go to the recipe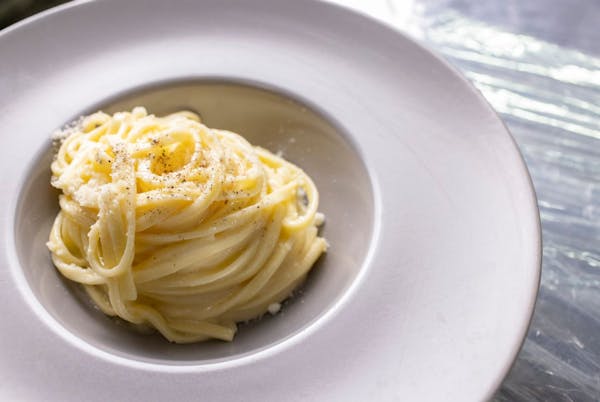 Fettuccine all'Alfredo
20 minutes
Go to the recipe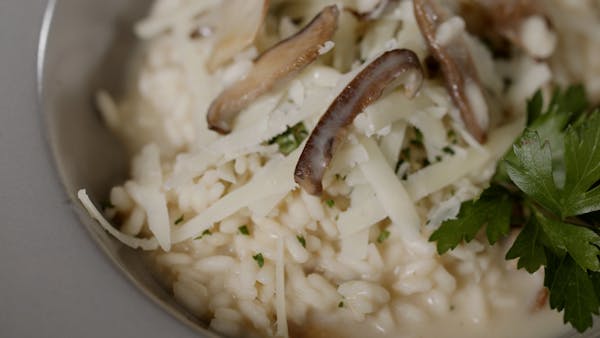 Mushroom Risotto
30 minutes
Go to the recipe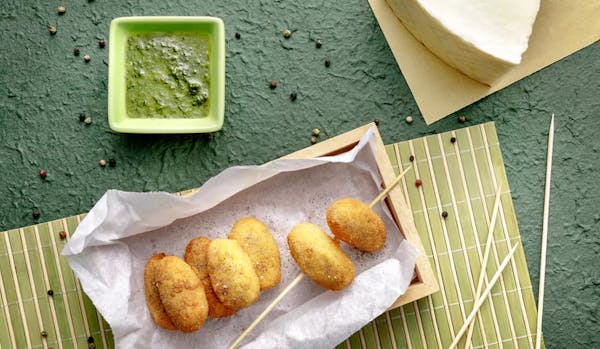 CHEESE AND PEPPER CROQUETTES WITH PECORINO ROMANO
45 minutes
Go to the recipe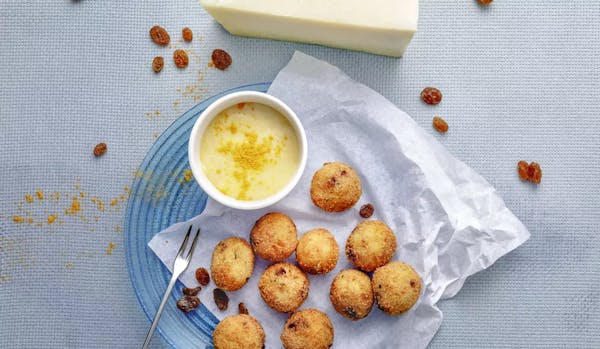 SWEET AND SOUR SALTED COD RISSOLES WITH PECORINO ROMANO
45 minutes
Go to the recipe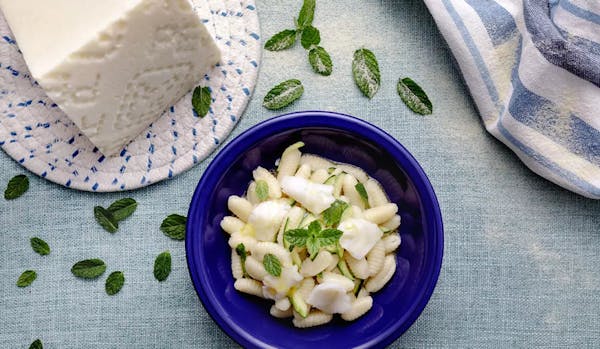 MALLOREDDUS WITH SALTED COD, COURGETTES, PECORINO ROMANO AND MINT
30 minutes
Go to the recipe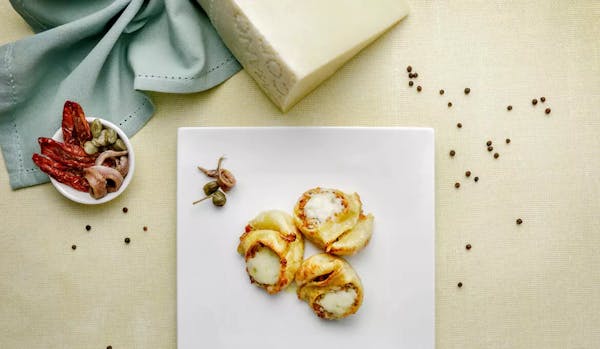 CONCHIGLIONI FILLED WITH PECORINO ROMANO CHEESE
45 minutes
Go to the recipe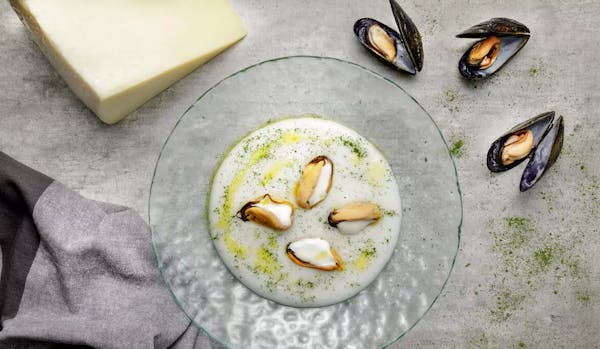 RICE WITH MUSSELS AND PECORINO ROMANO
45 minutes
Go to the recipe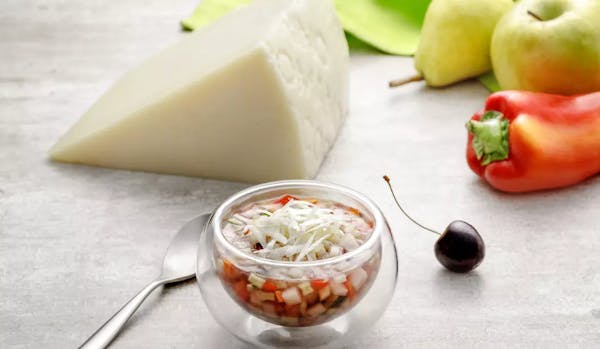 FRUIT AND VEGETABLE SUMMER SALAD WITH PECORINO ROMANO
30 minutes
Go to the recipe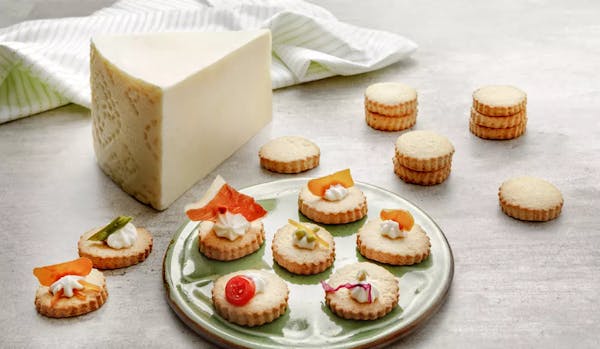 SHORTBREAD COOKIES WITH PECORINO ROMANO
45 minutes
Go to the recipe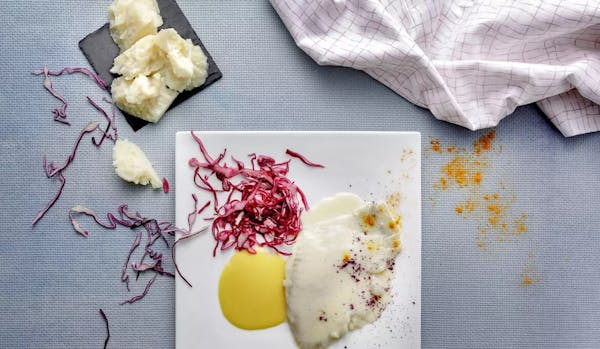 TURBOT ESCALOPE WITH PECORINO
45 minutes
Go to the recipe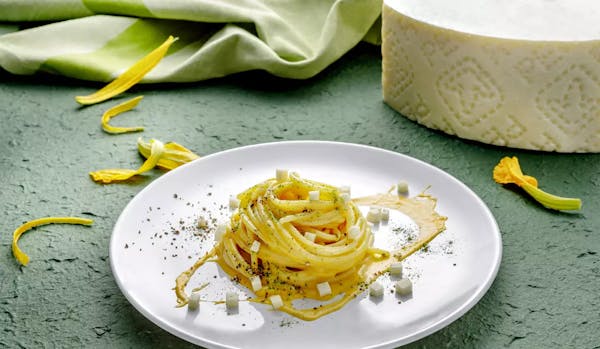 SPAGHETTI WITH PUMPKIN CREAM AND PECORINO ROMANO CUBES
45 minutes
Go to the recipe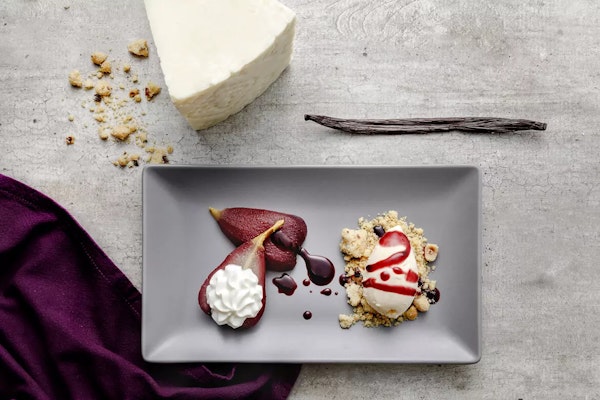 PEARS IN VIN SANTO WITH PECORINO ROMANO CREAM AND VANILLA ICE
60 minutes
Go to the recipe